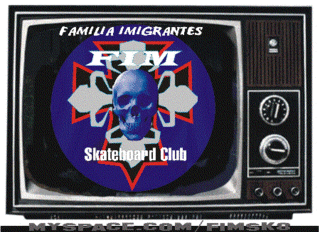 FAMÍLIA: GRUPO DE PESSOAS OU ASSOCIAÇÃO DE PESSOAS QUE POSSUEM, A MESMA ORIGEM E OS MESMOS INTERESSES. IMIGRANTES: PESSOAS QUE VEM RESIDIR OU SE FIXAM EM UM LOCAL QUE NÃO É DE SUA ORIGEM.
FAMILIA IMIGRANTES (F.IM) OBJETIVOS E INTERESSES EM COMUM: SKATEBOARD, HUMILDADE,LEALDADE,PROCEDIMENTO,CARÁTER ,ATITUDE E SOLIDARIEDADE. ANDAR DE SKATE, AJUDAR O PRÓXIMO ,SER LEAL AS NOSSAS AMIZADES E SE DIVERTIR MUITO SÃO CRITÈRIOS QUE NÓS MEMBROS DA F.IM (Familia Imigrantes Skateboard Club) NUNCA PODEREMOS QUEBRAR.
NA FIM ,NÒS NUNCA FALAMOS EM PRIMEIRA PESSOA DO SINGULAR E SIM NA TERCEIRA PESSOA DO PLURAL. NÓS FAZEMOS A DIFERENÇA ! A NOSSA UNIÃO E ASSOCIAÇÂO NOS ENTROSARA E ASSIM CONQUISTAREMOS AGILIDADE NA INFORMAÇÃO , RESPEITO NO PODER DE PLEITO E DE DEFINIÇÃO ,PROSPERIDADE PARA COM NOSSAS AÇÕES DE ORDEM ESPORTIVAS E SOCIAIS EM PROL DO SKATEBOARD.
NÓS SKATISTAS IMIGRAMOS SEMPRE PARA ALGUMA TRANSIÇÃO, LADEIRA ,PRAÇA OU PISTA. IMIGRAR COM AMIGOS PARA A PISTA DO PARQUE DAS FONTES DO IPIRANGA (ANTIGA FEBEM DA IMIGRANTES) COINCIDIU COM O SENTIDO FIGURATIVO DA SIGLA (F.IM).
FAMILY: GROUP OF PEOPLE OR ASSOCIATION OF PEOPLE THAT POSSESS, THE SAME ORIGIN AND THE SAME INTERESTS.
IMIGRANTES: PEOPLE THAT IT COMES TO LIVE OR THEY NOTICE AT A PLACE THAT IS NOT OF YOUR ORIGIN.
FAMILY IMMIGRANTS (F.IM) OBJECTIVES AND INTERESTS IN COMMON: SKATEBOARD, HUMILDADE,LEALDADE,PROCEDIMENTO,CARÁTER, ATTITUDE AND SOLIDARITY. WALK OF SKATE, to HELP THE NEIGHBOR, to BE LOYAL OUR FRIENDSHIPS AND IF it AMUSES VERY they are CRITERIA THAT US MEMBERS OF F.IM (Family Imigrantes Skateboard Club) we will NEVER be able to BREAK.
IN THE F.IM , WE NEVER SPOKE IN FIRST PERSON OF THE SINGULAR AND YES IN THE THIRD PERSON OF THE PLURAL. WE MAKE THE DIFFERENCE! OUR UNION AND ASSOCIATION HAD GEARED US IS WILL CONQUER LIKE THIS AGILITY IN THE INFORMATION, RESPECT IN THE POWER OF CASE AND OF DEFINITION, PROSPERITY TO OUR SPORTING AND SOCIAL ACTIONS OF ORDER ON BEHALF OF SKATEBOARD.
US SKATERS ALWAYS IMMIGRATED FOR SOME TRANSITION, SLOPE, SQUARE OR TRACK. TO IMMIGRATE WITH FRIENDS FOR THE TRACK OF THE PARK OF THE FONTES OF IPIRANGA (OLD FEBEM OF THE IMMIGRANTS) IT COINCIDED WITH THE FIGURATIVE SENSE OF THE ACRONYM (F.IM).
http://www.youtube.com/watch?v=uiTTtL7t2M0